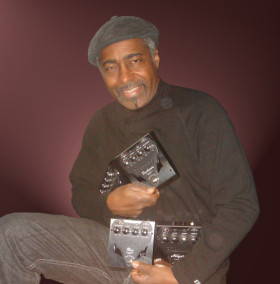 Vasti Jackson is the guitarist, songwriter and producer. He may well be the busiest musician in Missisipi. In the last several years, the Hattiesburg resident has appeared in several feature films, a documentary and a TV show, co-produced a Grammy-nominated album, and worked as a session man and road musician for numerous artists. Jackson also performs with his own band and as a solo acoustic act, and recently stepped up front with a new CD, "No Border to the Blues", that might be seen as a distillation of all the work he's accomplished to date. "I love collaborating, but this CD is me putting the music out there from my own personal inspiration", Jackson explains. "There's music that's more traditional blues, acoustic, electrified and more rocking, but at the core of it is a compelling Mississippi attitude."
"Vasti Jackson is the real deal! He plays the blues, he sings the blues, he writes the blues, he produces the blues, and yes, he feels the blues. When you understand the blues, the blues like Vasti has had since his Mississippi childhood, you know that there are no boundaries to the music. It permeates every experience in life. Vasti has proven it with his expansive look at the future of the blues." - Art Tipaldi (Blues Revue Magazine)
Official website of Vasti Jackson.
Vasti Jackson uses Taurus Silver Line effect pedals - Abigar, Tux, Vechoor and Zebu.
Products used by this artist: