Artists - Steven Wussow (Xandria)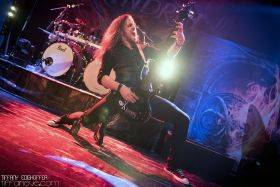 After being a touring and recording artist for almost 20 years Steven Wussow joined the German Symphonic Metal Masters XANDRIA in 2013. With Xandria he recorded the highly anticipated album "Sacrificum" (2014) which was followed by a massive world tour. Those more than 150 shows took the band around the globe. After the release of their "Fire & Ashes" EP (2015) Xandria unleashed their latest and up to date most successful record "Theater Of Dimensions" in January 2017. Xandrias "Tour Of Dimensions" World Tour is said to be even longer than its forerunner! It is going to cover the last white spots on Xandrias World map.
And this is where the friendship of Steven Wussow & Taurus begins…
"You know we have been working on a completely digital basis since for a couple years. But to be honest I always missed the thunderous sound of my good old, huge (!) bass rig. I`ve tried out almost every pedal and preamp on the market, but something was always missing.
Then Taurus offered me their help in finding that missing piece of my sound puzzle.
They send me the T-DI Plus Mk2 and what more can I say than…. YES MAN! THIS IS IT!
Believe me when I say that this tiny masterpiece crushes EVERY regular bass rig I have ever played!"