Artists - Samy Saemann (Freedom Call)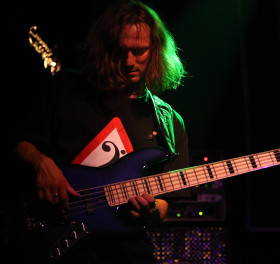 Samy is a bass player since 1984, studied at Meistersinger Konservatorium Nürnberg and Bass-School-Munich. he teaches bass for more than 15 years. He has worked with many bands playing different music from Jazz to Funk to Metal. He participated in workshops by John Patitucci, Alphonso Johnson, Jimmy Earl, TM Stevens, Gary Willis. Since 2007 he is a bassist of "Freedom Call", a band playing Power "Happy" Metalwww.freedomcall.de.
In 2009 he has started his solo Fun-k-BassPopJazz project "Saemann Combo", CD release in December 2009.
Samy is the endorser for Taurus amps & cabinets, Marleaux and Maruszczyk Basses.
Samy Saemann uses Taurus TH-Cross amplifier and the speaker cabinets TN-210 + TN-410.
Products used by this artist: