Artists - Roger Öjersson (Tiamat)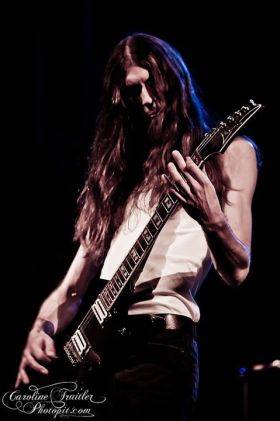 Roger is a very active musician. He's been involved in such projects as:
1993-1997 Guitars, backing vocals - Vildsvin
1995 Guitars, mandolin, tinwhistle, harmonica - Breath Of Life
1998 Guitars, backing vocals - Earth Revival
1999-2000 Guitars, bass, backing vocals - Baba Guesthouse
1999-2000 Lead vocals - Chairman
2001-2012 Lead vocals, bass, acoustic guitar, mandolin, percussion - Kamchatka
2004 Guitars, bass, drums, keyboards, mandolin, backing vocals, flutes - Dan G Ahlgren
2009- Bass, backing vocals - The Sirians
2010- Guitars, backing vocals - Tiamat
2013 Guitars, backing vocals - Pain of Salvation
2013- Lead vocals, guitars - No Fear Tattoo Rhythm & Blues Review


Roger uses Stomp-Head 4.High Gain, Vechoor SL and Zebu SL.
The clarity of the sound in the Stomp-Head 4.High Gain is just amazing. It stays distinct no matter how much you crank up the distorsion. It brings more than enough power for the larger festival stages too. And the portability, of course, is unparallelled.
The Vechoor has this old school feel to it, but with a new level of controlability, on account of the detune and enhancer knobs. From warm and smooth to completely crazy. It doesn't steal any signal or sound like you're frying bacon when you turn it on either, which so many other modulation pedals out there do.
The Zebu is simply the best of both worlds when it comes to reverb and delay pedals. To be able to blend them both as you please is just beautiful.