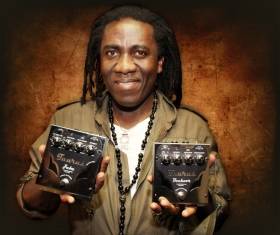 Multi-instrumentalist, bass guitarist, drummer and singer from Cameroon. Bona began learning to play the guitar at the age 11 of 1978. His career began 1989 in France. Bona started cooperation with French top jazzmen - Didier Lockwood, bassist Mark Ducter and African jazz stars - Manu Dibango and Salif Keita. Bona has spent 7 years in Paris, improving his musical skills and learning from the outstanding musicians such as Joe Zawinul.
In 1995, he moved to NY where he used to play with Larry Coryell, Mike Stern, Pat Metheney, Herbie Hancock, Chick Corea, Jacky Terrasson, Bob James, Sadao Watanabe, Branford Marsalis, David Sanborn, Regina Carter, Bobby McFerrin and Randy Brecker.
Performing, Richard Bona immediately catches contact with the audience. He gives 100% of his own and the band's energy. His eclectic style mixes jazz, blues, african beats, carribean rhythm and a drop of pop. The technique of playing is very important to Bona. He is a great improviser, he sings very originaly and charming. His concerts are always great experience for the real conneseurs as well as for public who listens to music from time to time.
Richard Bona uses Taurus Silver Line effect pedals - Abigar, Tux, Vechoor, Zebu and the preamp T-Di.
Products used by this artist: