Artists - Przemek Drużkowski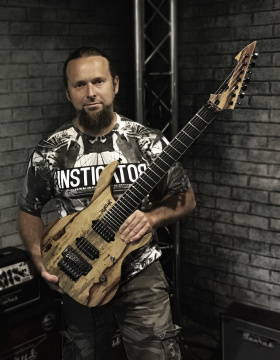 Przemek Drużkowski is a luthier and musician based in Newark on Trent. He combines his guitar skills with hism woodworking knowledge to develop comfortable and modern guitars, dedicated to wide spectrum of users. Przemek is a guitarist in Aonia, with whom he has toured the UK supporting many acts like Xandria, Blaze Bayley, Sirenia, Warrior Soul, Kobra and the Lotus, and many more. In April of 2017 Przemek exhibited his guitars at MusikMesse in Germany and January 2018 was his debut at NAMM in Los Angeles.
During the shows, Przemek demos his guitars, which are powered by the Taurus SH5 stomp-head and the Taurus Servo.

 Przemek uses Stomphead SH5 and Servo.
"Amazing big amp in a small box ! Apart from great and very versatile sound it is also designed to be very function and practical. A must have tool for a modern musician"