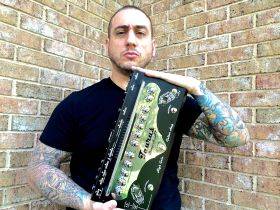 Pablo Olivares was born in Argentina. His family instilled in him a strong religious faith, which he carries today in addition to a passion for hard-hitting heavy metal. After beginning to pursue a life in music and forming his first band, opening concerts around Latin America for bands like White Snake, Queensrÿche, Skidrow and Megadeth, to name a few, Pablo was the victim of a nightmarish crime: in 1998 he was abducted in Mexico City, before a concert for MTV, and held against his will for hours. During and after this life-altering experience, his religious beliefs grew even stronger, and Pablo felt compelled to devote himself to creating music that would help, encourage and inspire others - especially young people. His album "Luz En Mi Vida" was heard all over Latin America as well as the United States, and earned Best Rock Album nominations at the 2005 Latin Grammys, Dove Awards and Premios ARPA. His second album "Voy a Entregar mi Corazon" was nominated again for a Latin Grammy 2007, Premios ARPA and DG Awards 2007. He's been performing concerts in Latin America and the United States, and in 2009 he released "Si te Conocieran", a more intimate and personal album. During the same year Canzion Films filmed a movie about his testimony, called "Poema de Salvación". The movie was an immediate success, and the soundtrack will be released on September 13, 2011.
http://www.pabloolivares.com.ar
https://www.facebook.com/pabloolivaresoficial
Working on his new album now!! release on February 21, 2015
NOMINATIONS & AWARDS
Album "LUZ EN MI VIDA"
"Grammy Latino 2005 Nominee"
"Dove Awards 2005 Nominee"
"winner of 2 Premios ARPA 2005 "
------------------------------------------
Album "VOY AENTREGAR MI CORAZON"
"Grammy Latino 2007 Nominee"
"Gardel AWARDS Nomenee.
" ARPA AWARDS " 2007 Nominee"
"winner of Dante Gebel awards 2007"
"winner of Gospel awards Paraguay 2008 "
—————————————————————
Album " Poema de Salvacion."
"Gardel AWARDS 2012 Nomenee"
Winner of "ARPA AWARDS" 2011 BEST DVD.

Pablo uses Stomp-Head 4 High-Gain
With more than 25 years as a pro guitarist I can say this Head 4.SL is insane!
Products used by this artist: