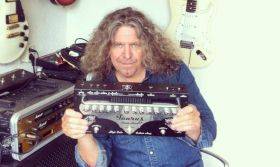 Born in Middlesbrough, Mick Tucker now lives in Holland. His musical career began at the age of 14 after listening to Black Night by Deep Purple on the radio. Mick went on to play in a number of local bands, eventually forming a band called Axis who released their first single on Neat Records and toured the UK.
Mick left AXIS and joined another more successful local band, White Spirit, after guitarist Janick Gers (iron maiden)left to join Ian Gillan and moved to London. The band recorded demos for Warner Brosand played a lot of shows in southern England before breaking up.
He joined Tank in 1983 and recorded to date 11 albums, playing various shows around the world including joining as special guests with Metallica on the Ride the Lightning European tour 84 and afterwards touring America and Canada.
After Tank, he played with Nicky Moore (Samson) John Payne (ASIA) in various bands before reforming Tank in 1996 and playing more shows around the world. He started work with Doogie White (Rainbow, Malsteen) on his solo album in 2008 and asked Doogie to join Tank.Two more albums were recorded with him; War Machine and the latest War Nation. The band are currently writing for their next album and about to start touring this spring dates in Europe and south America.
Tanks latest line up includes barend courbois ,bass and bobby schottowski drums of sodom
Mick Tucker uses Stomp-Head 4.High Gain, Vechoor SL and Zebu MK-2 pedals