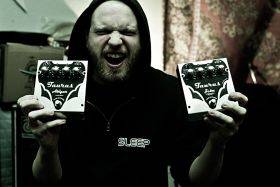 I grew up in a family of musicians, since I was a kid music has been a part of my life. My grandpa played guitar and mandolin, and my mother used to study classical guitar until some year ago. My mom bought me my first guitar when I was 6 but I found boring the school approach and all the lessons. At 13 I bought my first electric guitar, made of carton and recycled toilet paper, and started to practice by myself. I'm a self made musician, except the very first couple of years of classical and a little bit of folk (yeah). I played guitar with At the Soundawn for eleven years and bass in Donkey Breeder. I recorded 1 album with Overself, 3 albums with At the Soundawn and 1 with Donkey Breeder. Now I'm proudly part of Blindead where I play bass and guitar.
Matteo uses Taurus Abigar and Zebu effect pedals.
About Abigar: "This pedal is just perfect. I was looking for a compressed sound and a colored, warm, huge distortion, for mixing them and well, they both came in one single pedal, Abigar. And it's also super versatile! In a venue during the soundcheck the owner of the club yelled angrily: "this is abnormal!" So I'm really proud of it."
About Zebu: "After 2 seconds of a chord made with a guitar on it, I felt in love with Zebu. I use the reverb especially, and it's perfect for both guitar and bass. Put it at maximum and it's like playing inside the biggest cathedral of the planet, put it at half and add some delay for Pink Floydish solo sound, put just a little bit of it with almost infinite delay for some tripping drone stuff. I used it for the entire record of the last At the Soundawn's album in november 2012, all the reverb you'll hear in that album is made with Zebu. Simply amazing."