Artists - Marco Billiani (Alkbottle)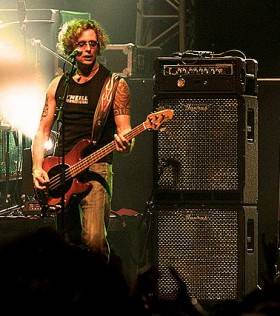 Marco Billiani, since 1990 Bassist of the most successful Austrian rock cover band ALKBOTTLE, founded in 2010, swears by the sound of his TAURUS Stacks:
"The amp quality, performance and design I was fully convinced, gig after gig runs smoothly requiring firearms license on foreign volume."
ALKBOTTLE sold 140 000 records, completed countless concerts including Supportgigs before bands like KISS, DEEP PURPLE, ZZ TOP, VAN HALEN etc.
ALKBOTTLE published an anniversary DVD & CD box in November 2010. Fans will find not only a qualitatively excellent audio retrospective of last year's "fat wia Christmas" - concert in the Gasometer,but alos a band documentary, Unplugged released recordings of Alkbottle 20 years celebration, commercials and all previously Music videos, from its beginnings to modern times. www.alkbottle.at
Marco Billiani uses Taurus THD-450T amplifier and the speakers TN-410 + TN-115.
"The THD 450T, I play since November 2010, delivers a very powerful bass sound. What I like best in this amp, is two preamps transistor and tube. This feature has infinite number of steps per controller, and provides a rich tube distortion. THD creates a very transparent sound. The transistor stage provides a clear low end, through the mix with the tube preamp gives a compact, powerful Rockbassmix. All the settings are intuitive and easy.
The combination with one 4x10 inch and 1x15 inch box delivers the sheer power in rehearsal rooms, clubs and concert halls. By using a digital amplifier, the amp weights 4.2 kg, and equipped with neodymium speakers boxes make it to about 30 kg each."
Products used by this artist: