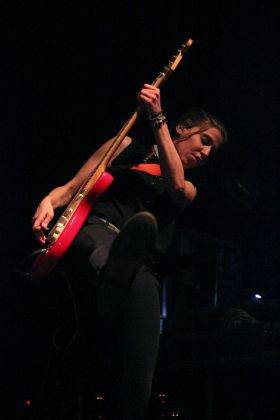 Linda is a loud & proud Guitar player. Originally from Italy, it is now hard to place her accent anywhere in particular. Linda has spent the last few years working as guitarist for the Brit-Award winner, re-born punk-queen, Kate Nash playing some of the most prestigious venues and festivals (Lollapalooza, Coachella, Glastonbury, Rock Im Ring etc) in the UK, Europe, USA & South America as well as appearing on most of her radio and TV appearences.

Alongside working with Kate, Linda has been working with the band Yellowire in the past year, touring all across Europe supporting Gavin DeGraw and recording their new album.
Her sound has been defined "avant-garde" by guitar FX guru Roger Mayer.

Linda is now intensely working on finishing the recordings for her own band's first album. The band is called Echo Boom Generation.
Linda uses Vechoor MK-2 multi-chorus
I was rehearsing in my studio and I was trying to come up with a sound that featured some chorus without killing the guitar tone...my friend, Emma Hughes, had told me to try the Vechoor, and there it was a chorus that had a kick to its sound but that wasn't killing the natural tone of my guitar.