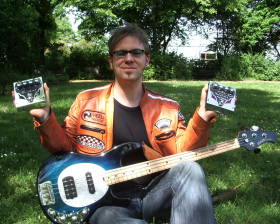 Lars Lehmann is a top freelance bassplayer, editor, author and teacher from Germany.
He has worked with artists like U.F.O., Uli Jon Roth, Simon Phillips, Vinnie Moore, Marty Friedman, Gus G., Mousse T., Roachford, Sydney Youngblood, Clyde Stubblefield, Bobby Byrd, Pee Wee Ellis, Randy Hansen, Mark Boals, Lyn Collins, Martha High, Vicky Anderson and many, many more.
  In 2010 he released his debut solo album MUSIC LIKE PICTURES which is being distributed via his webside. He is also the author of one of the most highly acclaimed teaching method books for slap bass entitled "Slap Attack".
  Lars has been the editor in chief of german bass magazine BASS PROFESSOR ever since 1996. Besides that he also teaches bass guitar at the university of the city of Hannover, Germany, and is also a guest lecturer at the "Academy Of Contemporary Music" in London, UK. Lars is endorsing Music Man basses and Markbass amps and cabs.  www.larslehmann.com.
Lars Lehmann uses the Taurus Silver Line effect pedal TUX as well as the preamp T-Di.