Artists - Lachlan Marks (Gay Paris)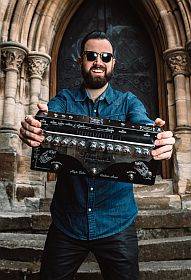 Lachlan "Ol' Blacktooth" Marks is a Sydney-based guitarist who has lent his eccentric brand of riffage to three albums by cult stoner/punk rock band Gay Paris: The Skeleton's Problematic Granddaughter (2011), The Last Good Party (2013) and Ladies And Gentlemen, May We Present To You: The Dark Arts (2015). He is known for his high gain sound, unusual use of hollow-body guitars and a fondness for octave and fuzz pedals. Gay Paris are considered one of the hardest touring bands in Australia, clocking up over 90 shows in 2013 for the Locie Award-winning Last Good Party Tour. Since then they've shared stage with the likes of Kyuss Lives, Dillinger Escape Plan and sleepmakeswaves. In 2015, their single "The Sackcloth Saint Of The Cornfield" was added to rotation on national broadcaster Triple J.
Marks uses Stomp-Head 4.High-Gain.
" In 2015 with the kind of band we are, we're playing decent-sized rooms but we don't have the budget to be shipping a giant backline from city to city.
That said, it's important to have consistency in sound and the Taurus Stomphead gives me a big, roaring high gain sound every night of the week, so I can concentrate on important things like jumping around like a lunatic and drinking the front row's beer. Seriously though, if you're in the business of heavy rock'n'roll and looking for portability without compromising the depth and quality of your sound, make sure you've got one of these bad boys in tucked your backpack. You're welcome."